V12'S SUSTAINABILITY COMMITMENT
We are committed to giving V12 wearers the high-performing safety footwear they've come to expect – but whilst also striving for environmentally sound manufacturing in our products' life cycle in every phase - starting with design, right through to shipping and packaging. So what are we doing and what are we going to do to be the most sustainable business we can possibly be?
WE'VE
been certified as a carbon neutral company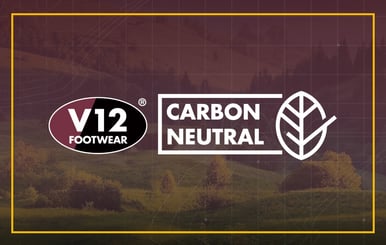 We are thrilled to announce that we've been certified ZeroCarbon® by The Sustainable Future Group. This certification is the result of a company-wide drive to reduce our carbon footprint and make our production processes cleaner and greener, and we have a huge sense of achievement now we've hit this environmental goal.
"I'm incredibly proud of the team for achieving this major milestone in our sustainability journey. it's another example of our total commitment to do our best for the planet."
George Turner, Managing Director
Find out the full story behind how we become a carbon neutral company here.